Pediatric Chiropractic in High Point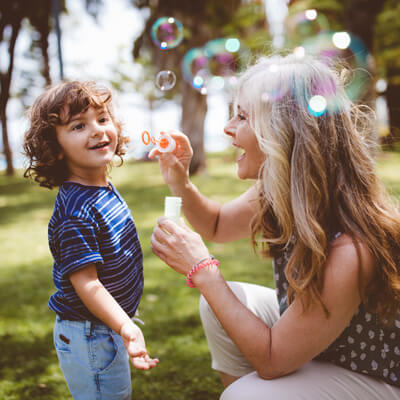 You can help your kids get the best start possible in life with safe, effective chiropractic care at High Point Chiropractic. Working with children is our passion—our goal is to address any issues your child may have now, before they turn into much bigger problems down the road.
Our Kid-Friendly Office
Kids immediately feel at ease in our fun, high-energy space. Our chiropractors have decades of experience adjusting children, and they know how to help nervous kids relax and enjoy the process.
We use low-force adjustments that are safe—we use them on our own kids! This light-touch pressure is no greater than what you would use to check a tomato for ripeness. Babies and toddlers can even be examined and adjusted while Mom or Dad holds them, and many sleep right through the adjustment.
Expert Care
Our chiropractors have all received extensive training through the International Chiropractic Pediatric Association (ICPA). They've adjusted newborns moments after birth, and have seen how early chiropractic care can help facilitate latching.
Parents often want to do their own research before beginning chiropractic care for their children.
We encourage you to
visit the ICPA website
to learn more.
FAQs
At what age can my child start seeing a chiropractor?
As soon as the umbilical cord is cut. The birthing process is a significant trauma to the tiny structures of your newborn's body, and misalignments and nerve irritation are common. The twisting and pulling on a baby's head can lead to serious problems later if the subluxations are not addressed soon.
We want to set your child up for a healthy life. After all, it's easier to grow a healthy kid than to fix a broken adult.
Do you adjust kids the same way you adjust adults?
No. The Activator Methods® is an instrument-assisted, low-force adjustment suitable for newborns, toddlers and older kids. These adjustments are extremely gentle and can be done while you hold your baby, so they feel completely secure.
Chiropractic care is an excellent method to prevent problems. Most health care is reactive, waiting for symptoms to appear before seeking care. Chiropractic care can help optimize your child's nervous system before problems arise, so that all their body systems work as they should, allowing them to grow and develop properly and be as healthy as possible.
Schedule Care Today
Help your little one get off to a healthy start in life. Contact us today to book an appointment.
CONTACT US »

Pediatric Chiropractic High Point NC | (336) 882-2434