Sports Chiropractic in High Point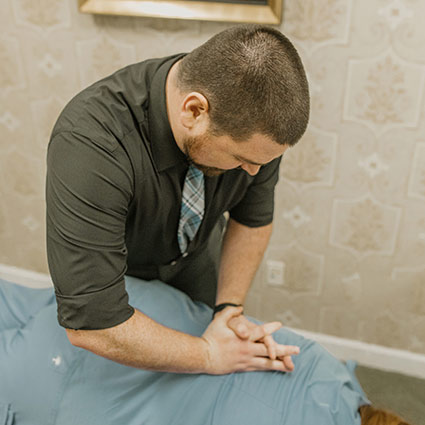 Athletes at all levels, from weekend warriors through the pros, demand a lot of their bodies. Whether you run marathons, do CrossFit, enjoy a game of golf now and then, or engage in contact sports like football or rugby, keeping your body healthy and performing optimally is important to avoid injury. Sports chiropractic care at High Point Chiropractic can help improve function, reduce the likelihood of injury, and facilitate healing and recovery if you do get injured.
Virtually every Olympic and professional sports team employs a team chiropractor. Fortunately, you don't have to be a pro to experience the benefits of chiropractic care.
How Chiropractic Helps Athletes
Athletes can experience a myriad of benefits from regular chiropractic care, including
Pain relief
Resistance to injury
Improved range of motion and function
Faster injury recovery
Improved performance
FAQs
Do you see athletes of all ages?
Yes, we help elementary, junior high and high school athletes, collegiate athletes, and adult athletes of all ages. We're particularly proud of one of our patients, who's in her nineties and still golfs regularly!
What kinds of sports injuries do you see?
We see a wide variety of sports injuries. Some of the most common are
Sprains
Strains
Knee injuries
Plantar fasciitis
Golfer's/tennis elbow
Shin splints
Can chiropractic help reduce my need for pain medication?
Yes. Many athletes reach for the painkillers for their aches, pains or injuries. Chiropractic is a natural, drug-free approach to alleviating sports-related pain.
Is maintenance chiropractic care beneficial for athletes?
Yes, regular adjustments can keep your body and nervous system in tune, so you can perform at peak levels and reduce the chances of being injured. Your chiropractor will discuss your athletic goals and make a care recommendation based on your individual circumstances.
Will you give me exercises I can do at home?
To keep your spine properly aligned and your body functioning optimally, it's important to do stretches and exercises designed for that. We will teach you stretches and exercises you can do between visits to our office.
Book an Appointment
Contact us today to schedule an appointment.
CONTACT US »

Sports Chiropractic High Point NC | (336) 882-2434